Thinking of long summer nights in lock-down, with a BBQ or open fire and a glass of wine? Wondering what will accompany all of these and will they go well?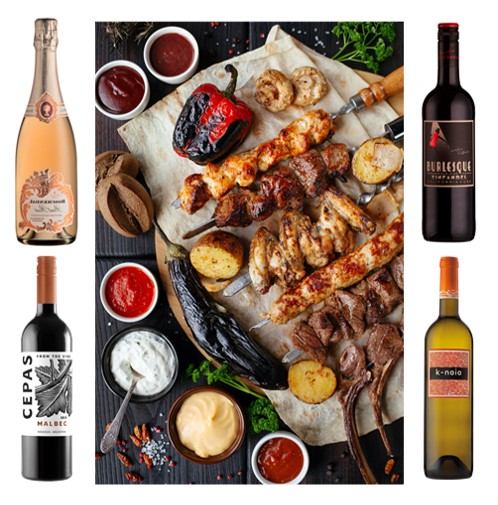 In our opinion, the answer to the latter is 'absolutely'. Which type of wine you choose should really depend on two key questions – what wine do you like to drink? And how 'complimentary' would you like it to be given the food you're eating.
Don't forget, just like food, if you like a wine, it would take a lot for it to taste terrible to you.
We usually have a broad range of food on our BBQ to cater for my husband and I and our 3 children, so we will often choose a good all-rounder such as a light Malbec (Try the Cepas Malbec from Argentina) or a fruity white like the K-Naia Verdejo.
If we have something a little more special, then we tend to match that particular food with wine and take comfort in the knowledge that if we like the wine that much, it will go with pretty much everything else! Some of our favourites' include:
Burgers, sausages or BBQ flavoured meats – either a Californian Zinfandel (see our Burlesque Zinfandel) or an Aussie Shiraz, the smokiness and spiciness in the wine will complement the same flavours in the food.
Fish BBQ – for salmon, either a rose or white zinfandel. For us it has to be the Boschendal sparkling Rose, truly amazing together. For white fish and seafood, we go for a something like a chilled K-Naia Verdejo or a Sauvignon Blanc (such as the Native Cuvee Special). For tuna or red mullet we'd go Sicilian, such as a Frappato.
For the vegetarian option we might go for a lighter red, e.g. a Malbec or Primitivo, both would pair well with a fuller veggie dish with peppers or aubergine, or for pretty much everything else, we'd choose a refreshing and dry white such as the Los Olivos Chardonnay or a Cava.
Happy Summer 2020!
To purchase any of the wines mentioned above…